Helping you
help your team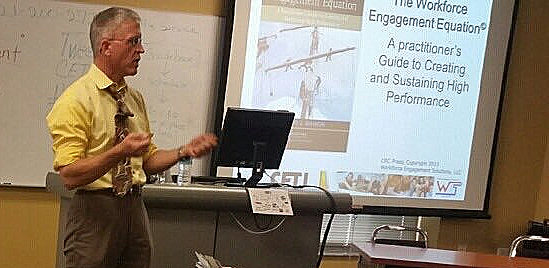 I will do whatever it takes to ensure you and your team are successful!
I started Workforce Engagement Solutions to help ensure people and organizations thrive!
People are your only sustainable competitive advantage - when your team is thriving, your organization is thriving!
I can help you implement the solutions or just provide the tools and techniques for you to use on your own.
TheWEQ is your comprehensive software-enhanced team building solution
Proven to work at the speed of life! 
More than just
"Team Building" and "Leadership".
TheWEQ software, tools, templates, and training will propel your success; you'll find solutions rapidly building strong teams that consistently deliver value.
You'll improve your success rate building helathy teams by mastering the 5 elements surrounding and supported by the "Performance Triangle".
Human Factors: Your People are Your Competitive Advantage
Systems and Technology: Systems that Serve - Not Demand Service
Business Acumen: Maximize Your Return on Investment
Management: Maximize Resources, Time, and Talent
Leadership: The Inspiration and Courage to Be the Change
TheWEQ reports informs your decisions.
Member Resources:
Tools, templates, and training help you design and implement solutions
helping you support your team
TheWEQ is your total solution to achieve sustainable balance.
It started with a book, now powered by technology and supported by a dynamic online community:
TheWEQ is your step-by-step process to form healthy teams faster with less confusion and conflict.
Whether forming a new team or reenergizing and aligning an existing team, TheWEQ measurably increases team engagement and productivity. 
The intuitive five-stage model of team health and maturity serves as a framework that helps you implement 10 essential elements for each stage ensuring teams form faster and more effectively. 
Rapid team assessments target your efforts so your team spends less time on non-value added activities. 
Click on each of 5 stages below for a quick overview of the goals TheWEQ helps you quickly accomplish during each stage of your team's development:
Forming: Occurs as individuals first come together and begin transitioning into a team.
Goals: As the team lead, you have three goals to form the team well:
Establish trust
Lay out a clear vision/mission
Demonstrate how each team member will benefit
Success Indicators:
Shared purpose & Identity
Widespread understanding of the team's mission
Growing excitement
TheWEQ methodology and assessments helps you diagnose and build a solid team and healthy organization that consistently delivers value because TheWEQ empowers you to achieve Comprehensive Organizational Management.
Like three legs of a stool, The 50 elements of TheWEQ methodology ensures stability:
Elements of Impactful Leadership: 20%
Elements of a Healthy Organizational Climate: 20%
Elements of Comprehensive Management: 60%
Your annual membership provides:
A comprehensive suite of team assessments
Diagnostic reports linked to detailed explanations
Downloadable customizable plans, tools, and templates
LEARN MORE ABOUT THEWEQ TEAM DEVELOPMENT