INSTRUCTIONS: How to Take TheWEQ Assessments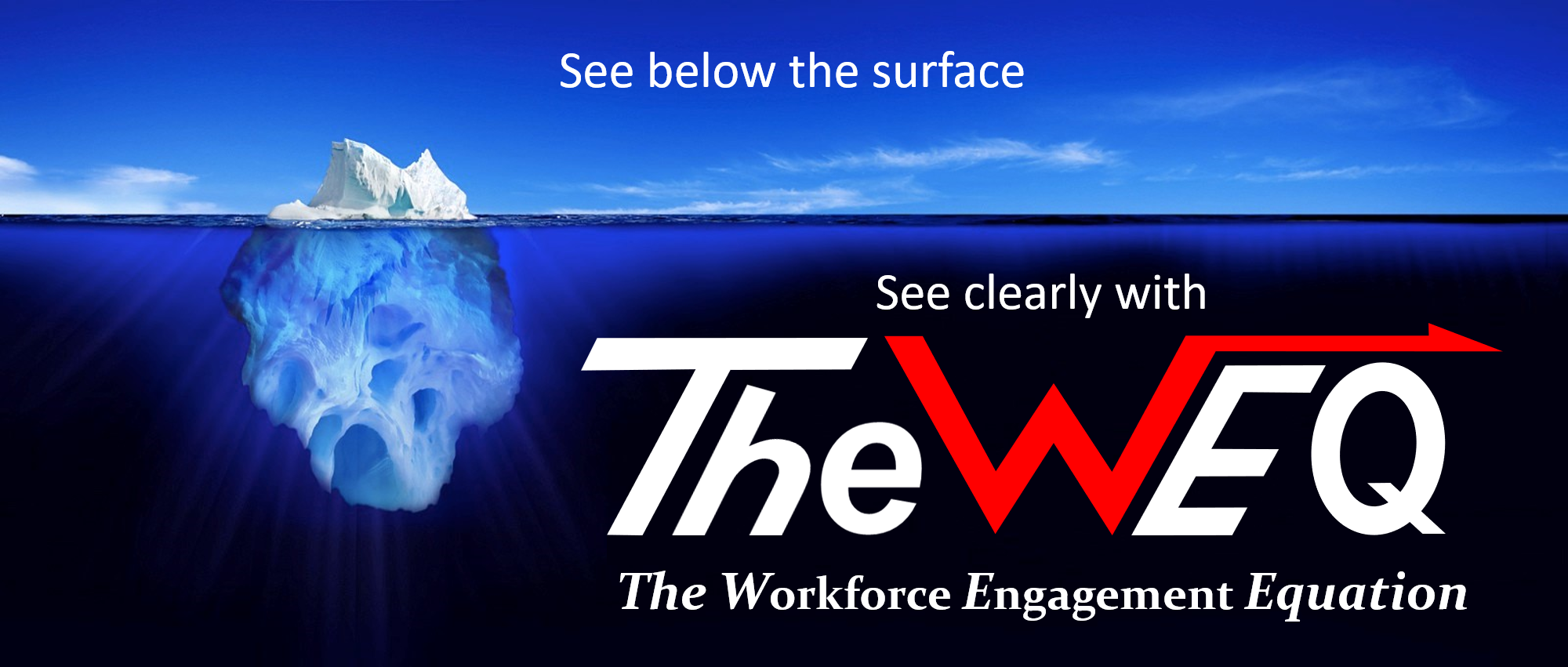 Understand what your team needs using TheWEQ Online Assessments
Five significant ways TheWEQ differs from other assessments and team diagnostics:
More comprehensive:
Team health and maturity depend on much more than how team members get along – success depends on everything from communications to customer relations, systems to incentive structures, meetings to succession planning, training to benchmarking –the 50-essential elements of organizational effectiveness and employee engagement are assessed, scored, cross-referenced, and available at the click of a mouse!
(5 Stages of team maturity) x (10 elements per stage) = 50 elements
Behavioral-Based:
Based on observable behaviors, TheWEQ provides actionalble feedback than surveys based on feelings and opinions.  Each of the 50 paired statements describes observable behaviors that team members compare to their own experiences.
Actionable:
Each element is cross-referenced to a detailed explanation that can be accessed with the click of a mouse.  As one team lead observed, "Many tools and assessments I've used over the years tell you what's wrong, only TheWEQ gives you solutions."
Fast:
Each of the five stage assessments consist of 10 paired statements comparing extremes of observable behaviors - the average time to complete a stage assessment is 6 - 8 minutes.  Each assessment is stand alone so team members can provide feedback quickly.
Measurable: 
If you've take "Employee Satisfaction" or engagement surveys in the past, ask yourself, "What was actually done differently based on the assessment? Did it have a impact?"  TheWEQ methodology shows measurable results in a matter of months!  Your team health dashboard enables you to drill down and see whether your efforts are making a difference!
TheWEQ assessments provide timely feedback and detailed reports to identify, measure, and prioritize the needs of your team
You can view results by team, shift, department, location, or the entire company providing a clear view of your team or the entire organization's health and maturity.
Taking the Online Assessments
TheWEQ assessments are easy and intuitive to take.
On the Team Development launch page you'll see a lists of five stages of TheWEQ with a brief explanation of each - select which assessment you'd like to take and begin.
NEW TEAMS: If your team is just starting up, take only the Forming Assessment. Down the line, as the team develops take the others to track your progress as the team matures together.
EXISTING TEAMS: If the team has been working together for a while, take all the assessments.  This will identifiy areas of opportunity for increasing engagement and effectiveness.
When you've selected an assessment, you'll be presented with ten (10) sets of paired statements addressing critical elements of organizational effectiveness for the given stage.
Each statement reflects opposite ends of the effectiveness spectrum.
Consider each statement, which most describes your experience within your team – the one on the left or the one on the right?
You may need to scroll to read the entire statement - you can zoom in or out and the statement windows will resize to improve readability.
Once you've decided on either the left or right statement, select whether that statement is "Most" like your experience or "Somewhat" like your experience with your team. Click on the button indicating your choice. You can only make one selection per pair of statements.
You can add comments for each element if you wish.
NOTE: all assessments are completely anonymous - no one will know how you rated the element; just be careful how you word your comments - we generally recommend you to be general and not give specific dates and times of events unless you are comfortable providing that information.
Once you have made a selection and made any comments you'd like to add for each of the ten (10) paired statements, click on the Submit Button at the bottom of the assessment page.
NOTE: If you exit without submitting your responses, the assessment will not be saved and you'll have to select your options again.
NOTE: Error messages will tell you if you have skipped any of the paired statements.  Feedback is important, so every team member is required to make a selection for every pair so that you will have a more in-depth understanding of whether the team is fully informed and fully engaged.
Once you have provided feedback for each of the ten (10) paired statements and submitted your selections, you will receive an "Assessment submitted successfully" message.